Hot : Citizens to sue govt for 'doing nothing' about Jakarta's air pollution
Dozens of bicyclists entered City Hall on Wednesday morning to send a warning to the Jakarta administration and the central government that, if they do not do something about Jakarta's air pollution within 60 days, they will file a citizen lawsuit.
Three of them wore orange jumpsuits and respirator masks while yelling: "Clean the air of the capital city!"
The citizens, who are grouped under Gerakan Inisiatif Bersihkan Udara Koalisi Semesta (Coalition for the Clean Air Initiative), or Gerakan Ibu Kota for short, plan to sue the President, the Jakarta governor and other officials because they were seen as "doing nothing" to reduce the city's air pollution.
Nineteen citizens, including Inayah Wahid, Melanie Subono and Sandyawan Sumardi, are prepared to become plaintiffs should the government fail to deliver in 60 days.
Inayah said she was worried about the level of air pollution in Jakarta. "We are concerned about this. That's why we ask the government to be really serious about reducing the pollution to prevent [people from becoming] victims, especially those from the most vulnerable groups," she said. Musician Melanie said breathing clean air was a citizen's right.
They demanded better governance and law enforcement to tackle air pollution problems stemming from factories, coal-fired power plants and vehicle emissions.
"We are notifying the related officials that, if they do not make any significant moves to reduce air pollution in Jakarta within 60 working days, we are going to take this case to the Central Jakarta District Court in the form of a citizen lawsuit," Nelson Nikodemus Simamora, a member of the movement and advocate from the Jakarta Legal Aid Institute, told The Jakarta Post.
"We send the message not only to the Jakarta governor, but also to the governors of Banten and West Java, because factories and coal-fired power plants in those provinces have spread pollution to Jakarta as well.''
According to a 2017 Greenpeace report titled Jakarta's Silent Killer, eight coal-fired power plants operate within 100 kilometers of Jakarta, producing hazardous pollutants that affect the capital city.
"This bad governance affects more than 10 million people living and working in Jakarta. We can obtain cheap energy from the coal-powered electric plants, yes, but we should think about the excessive price we have to pay if this many people have bad health due to the bad air quality," Nelson said.
Committee for the Phasing Out of Leaded Fuel (KPBB) executive director Ahmad Safrudin, who is part of the movement, said this was not the first time citizens planned to sue the Jakarta administration over poor air quality.
"In May this year, we went to see Jakarta Governor Anies Baswedan and urged him to take real action to reduce air pollution," Ahmad told the Post. Ahmad said the air quality in Jakarta was far below the ambient air quality standards set by the government.
"If we see the data from the last five years, the Jakarta air quality is far below the ambient air quality standards set by the government. The comparison is worse if we see the ambient air quality standards set by the World Health Organization," he said.
Data shows that Jakarta's air is contaminated by various pollutants, including PM 10, PM 2.5, SO2, O3, CO, NOx and Pb. From the list of the contaminators, activists have singled out PM 2.5, warning citizens that its particles are microscopic, meaning surgical masks cannot prevent them from entering human lungs. The pollutant can cause serious respiratory problems if one is exposed to it over a long period of time.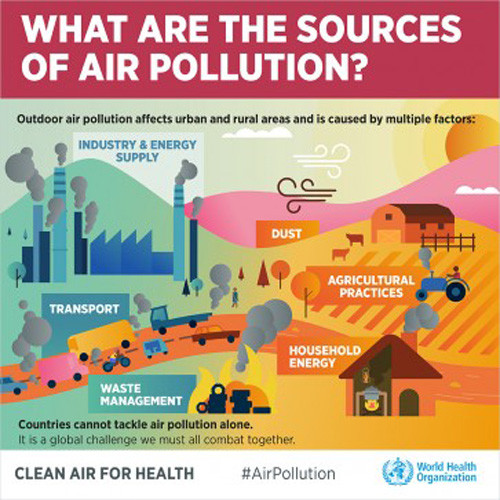 The sources of air pollution, according to the World Health Organization. (Courtesy of WHO/-)
According to a Gerakan Ibu Kota release, the amount of PM 2.5 in Jakarta had been always above 38 μm/m3 and often went above 100 μm/m3 on busy days. Meanwhile, the safety limit set by WHO is 25 μm/m3.
Ahmad said there were 36 regulations at various government levels that could help reduce air pollution, including ones on emissions tests, gas-powered public vehicles and regional administrations' obligation to provide green spaces for citizens.
However, the government and regional administrations do not enforce them seriously.
"There are even regulations that say we are not allowed to burn our household waste because it can pollute the air," Ahmad said.
"But the government never cares if our neighbors burn their trash and pollute the air. The law is never enforced."